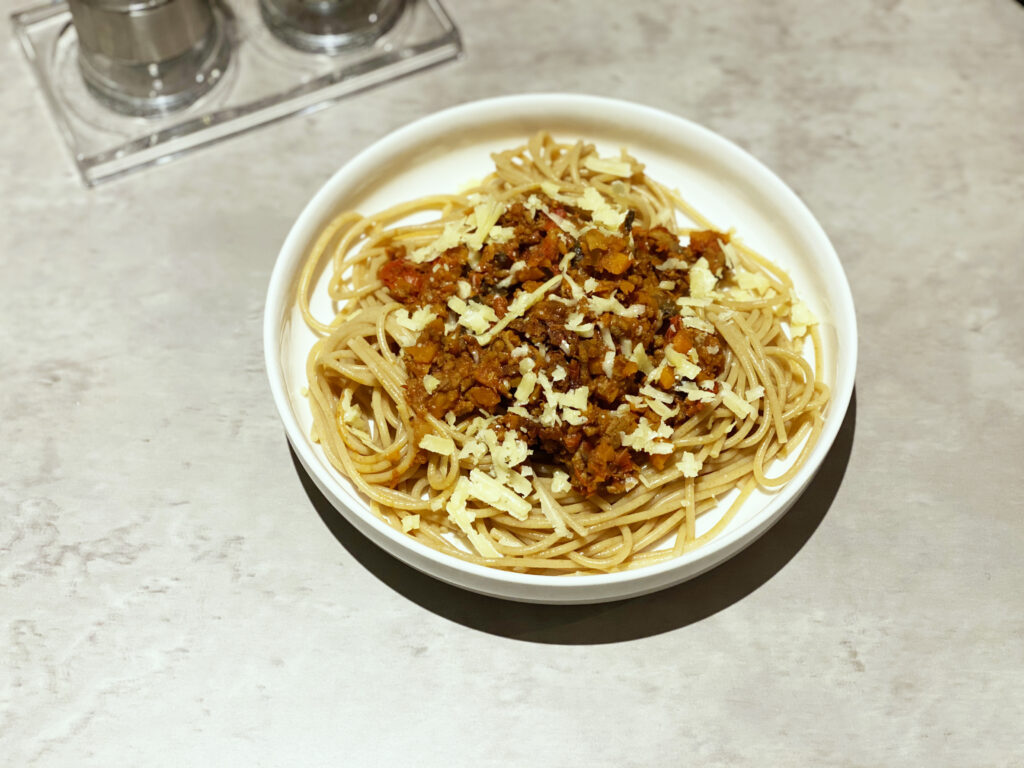 Quick Spaghetti Bolognese
If you lead a busy life with job, family and social activities it is totally normal that you sometimes struggle to cook, there simply isn't enough time. This recipe is my personal life hack to weekday dinners. I usually make Bolognese every two weeks on the weekend and then freeze two portions. This means all you have to do is boil some pasta and put your pre-cooked sauce in the microwave.
If you are on a calorie deficit you can make this recipe extra lean by using ground turkey instead of beef. If you are vegetarian or vegan simply substitute the meat with a veggie mince.
Ingredients:
500g mince beef 5% fat (makes 6 portions)
1 white onion
2 garlic cloves
250g chestnut mushrooms
3 large carrots
5 large fresh tomatoes
1 vegetable stock cube
Tomato Puree to taste
180g of dry pasta (for 2 people)

Instructions:
1. Finely chop the onion, carrots and mushrooms. Heat a large non-stick pan with a drizzle of oil.
2. Once the oil is hot, add the onion and crush the garlic into the pan. Cook at medium heat until the onion is translucent.
3. Add the beef and break it up with a wooden spoon. Let it brown for a few minutes and stir occasionally.
4. Once the beef is browned on the outside add the carrots and mushrooms.
5. While the carrots and mushrooms are cooking, chop the tomatoes.
6. Add the tomatoes and the vegetable stock cube to the pan and give everything a good mix. Cover with a lid and let simmer for 10 minutes or until the tomatoes have softened.
7. Add salt, pepper and tomato puree to taste. Depending on the tomatoes you are using you might want to add a little bit of sugar if the sauce tastes too sour. Leave on very low heat to keep warm whole you cook the pasta.
8. Cook your pasta according to packet instructions.

You can put the portions you don't eat into a container and freeze once fully cooled down.