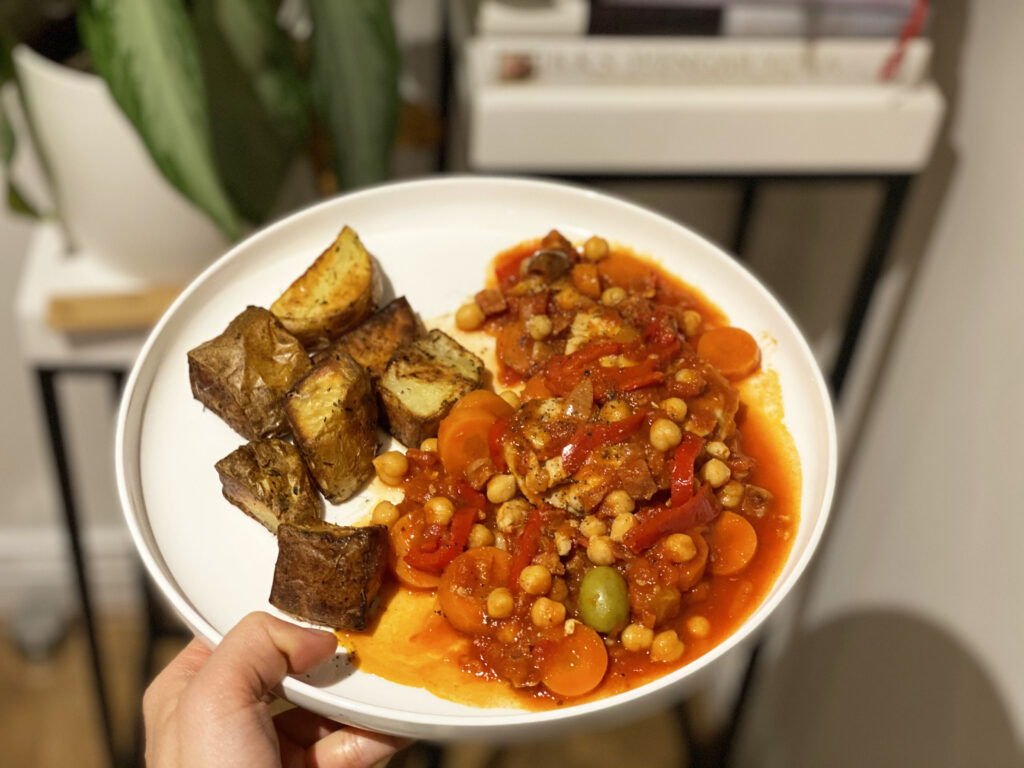 Chicken and chickpea stew
This takes a bit longer to prepare, so I usually do this on a Sunday. However, most of the time it's just sitting on the hob doing its thing – so far from labour intensive. Perfect if you want to up your protein intake as both chicken and chicken are great protein sources.
Macros per portion (based on the ingredients I used):
Calories: 582
Protein: 42g
Carbs: 49g
Fat: 22g
Ingredients (makes 4 large portions):
– 780g chopped tomatoes
– 1 red bell pepper
– 4 carrots
– 4 medium potatoes
– 550g skinless chicken thigh
– 1 onion
– 1 garlic clove
– 240g chickpeas (drained weight)
– 130g diced chorizo
– smoked paprika

Instructions:
Prep your veg: roughly chop the pepper and carrots. Finely chop the onion and grate the garlic. Slice the potatoes into 2 cm chunks.
Pre-heat your oven to 200 degrees, spray a try with cooking oil and place the potatoes on in; season with salt, pepper and you can also add some mixed herbs if you like. I sprayed oil on mine to ensure they come out crispy. The potatoes go in the oven before you start your stew.
Heat 1 tbsp of vegetable oil in a large non-stick pan. Once hot, add the onion and garlic. Cook for a few minutes on medium heat until the onion is translucent.
Add the chicken thigh and fry for 5-6 minutes on each side or until golden. Then remove from the pan and set aside.
Add the pepper, carrots and chopped tomatoes; season with salt, pepper and smoked paprika to taste. Set to simmer and cook covered for 15-20 minutes.
Add the chicken, chorizo and chickpeas and simmer for another 10-15 minutes without lid.
Your potatoes should be nice and crispy now.
Enjoy!