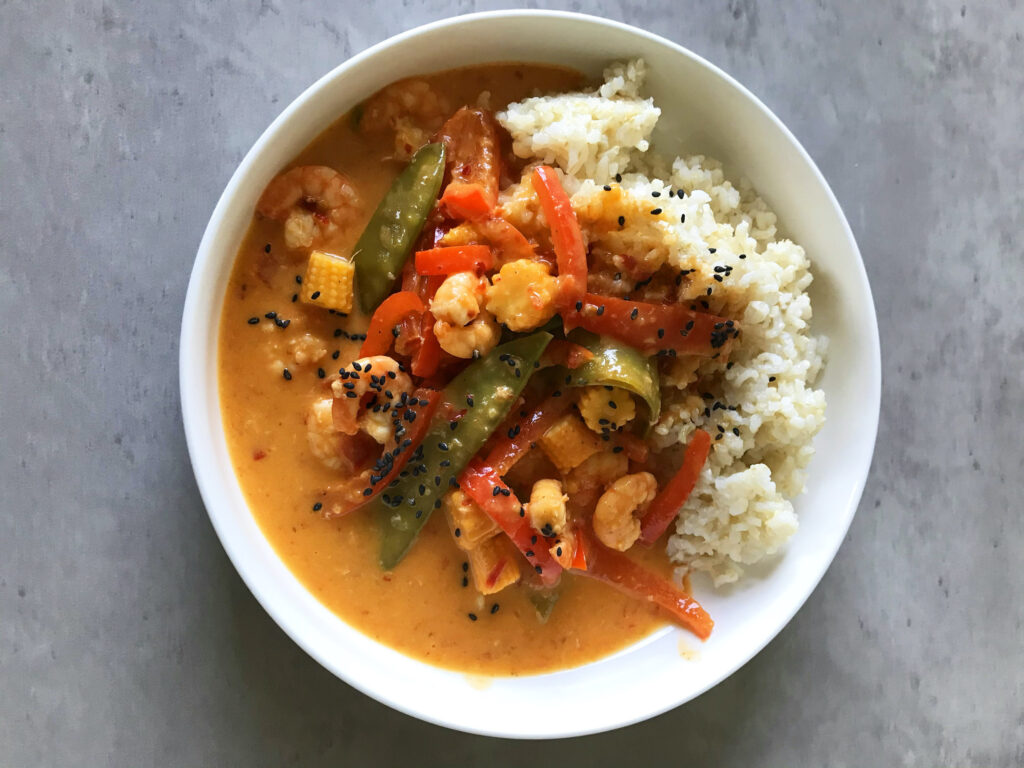 This is the perfect food for lazy cooks. I love Thai curry because it can be adjusted according to your preference. If you don't like some of the vegetables I am using simply swap these out for something you prefer. I also sometimes make a vegan version of this by using chickpeas and lentils – if you want to try that just add the chickpeas/lentils towards the end of the cooking process.
Ingredients:
1 white onion
Thai red curry paste (or green if you prefer)
400ml reduced fat coconut milk
100g mangetout
100g baby sweetcorn
1 red bell pepper
100g (dry weight) brown rice
100g king prawns
100g skinless chicken tight fillets

Macro estimate per portion:
Total calories: 523
Carbs: 44g
Fat: 17.2g
Protein: 31.8g
Instructions:
1. Prep you vegetables: slice the onion, chop the pepper lengthwise into strips and cut the baby sweetcorn into 1cm chunks.
2. Cut the chicken thigh fillets into 2cm wide chunks and set aside.
3. Prepare the rice according to cooking instructions on the packaging.
4. Heat 1 tbsp of vegetable oil in a large non-stick saucepan and once the oil is hot add the onion.
5. Once the onion has softened add the chicken thigh and cook for 5 minutes or until the outside is golden.
6. Add coconut milk and 1 tbsp of curry paste, stir well before adding the rest of your vegetable.
7. Bring everything to a simmer and let it cook on low heat for 15 to 20 minutes with the lid off.
8. Add the king prawns and let cook for another 3-5 minutes (if you use pre-cooked king prawns a couple of minutes should be enough).

Enjoy!