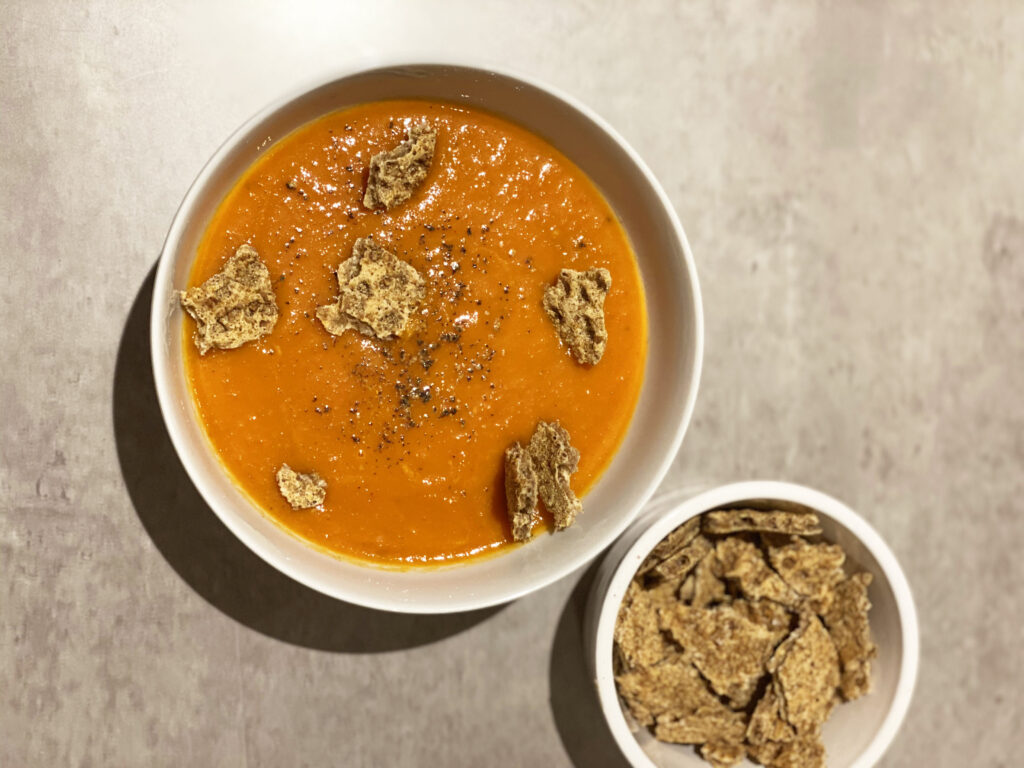 This is a great option if you struggle to incorporate enough vegetables in your diet. This soup is one of my go-tos during the winter months because it's easy to make and it's the perfect lunch. This is also very low in calories so the perfect meal if you are in a calorie deficit.
Ingredients:
1 white onion
5-6 big tomatoes
400g chopped tomatoes
3 garlic cloves
100 ml of single cream (I used soya based cream)
3 large carrots
1 vegetable stock cube

Instructions:
1. Start by roughly chopping your onion, tomatoes and carrots.
2. Heat 1 tablespoon of vegetable oil in a large pan and once hot add the onions and crush the garlic into the pot. Turn the head down and let the onion cook until it turns translucent.
3. Add the fresh tomatoes, chopped tomatoes and carrots. Add 400 ml of water and the vegetable stock cube, then bring to the boil.
4. Once it's boiling turn it down to a simmer, cover and let simmer for 15 minutes or until carrots are soft.
5. Turn off the heat and use a handheld blender to blend everything until you reach a smooth texture.
6. Season with salt and pepper (you might need to add a little bit of sugar depending on the type of tomatoes you used). Add up to 100ml of single cream, this can be adjusted according to taste.

If you want to add something crunchy to this I recommend using broken up crisp-bread (use the wholemeal version) because this will add some additional fibre to the dish.
Enjoy!